How is it already the middle of January? I didn't think that the end of the year had snuck up on me, but somehow a third of January was already gone before I realized I'd missed writing my Year in Review post. So, better late than never!
My focus for 2019 was really the Victims Quilt Project. The 20th anniversary of the Columbine shooting was in April of the year and once I realized that, I became intent on mounting an exhibit of the project to coincide with the anniversary. Thanks to the generosity of the Arlington Center for the Arts, I was able to do that and "Disarming: Memorial Quilts for Mass Shooting Victims" opened on April 20, 2019.  I completed quilts for the October and November 2018 shootings in Pittsburgh and Thousand Oaks, California in time for that show. I then made two more quilts for shootings in Virginia Beach and El Paso to hang as part of a special exhibit at the Rising Star Quilters Guild show in October of this 2019.
The year wasn't only about mass shootings, however. In the spring, I picked back up Arabesque #4, which I had put down in 2016 to begin Victims Quilts. I had already started quilting it but in the intervening time had both changed my mind about what I wanted to do and improved my machine quilting skills. So, I began first by pulling out all of the quilting I had already done.  I restitched around the "grout" lines and then added machine quilting in the blue and green blocks using botanical patterns common to Iznik pottery from Turkey. With the new botanical quilting design and the botanical design of the batik fabrics I used, I named the quilt "Stone Eden" in honor of the name my grandmother gave to the farm where I grew up.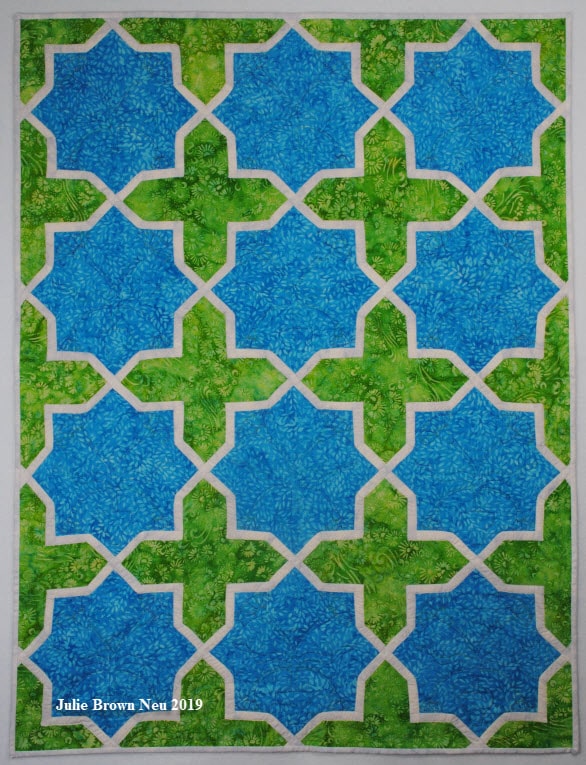 My second happy quilt of the year was a wedding quilt made for my Colorado-dwelling little sister. Read more about the design behind the quilt in my Colorado Mountains post.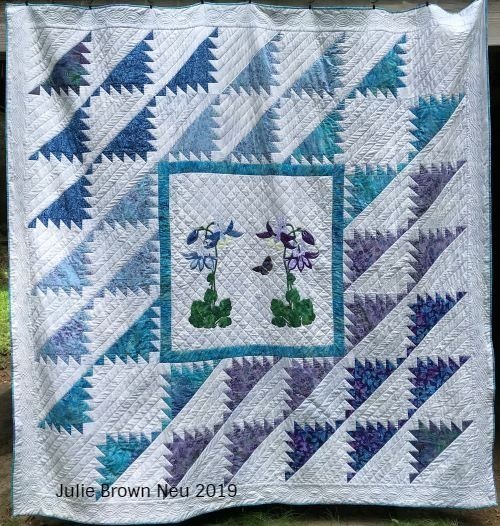 This year was also a great success from a professional perspective. I gave my trunk show lecture multiple times and was surprised by the kind words, hugs, and applause I received. I also taught several Creative Play™ workshops and hope I inspired a few people to explore their creativity more freely. I hope to use a little of that inspiration on myself this year as the focus of my practice shifts in 2020. I have just begun working in an exciting full-time job, which will mean shifting my creative time outside of 9 to 5 and learning how to balance my creative life with my working life.