In the last Sources of Inspiration post , I wrote about being inspired by the person for whom I am creating a quilt and about thinking of particular aspects of the person's personality or background that I want to use as my starting point. Yet, for an entire series of quilts for one family, the original inspiration was an antique quilt.
The eighth quilt I made, constructed between 2001 and 2004, came at the request of another beloved cousin of mine. Kelly sent me pictures of a quilt his great-grandmother from the other side of his family had made and asked me to replicate it for him. It was a red, white, and blue Double T pattern, hand-quilted in a Baptist Fan motif every ¼". (Now you know why I spent three years on it.) Because I love him, I faithfully replicated it, down to the immense hand quilting. But, I did not know when I started that spending all of that time hand quilting would actually bring me comfort. As a member then of the U.S. Army National Guard, he was called up March 20, 2003, and did not return home from active duty in Iraq until May of 2004. I was hand quilting the entire time he was gone and I am sure each stitch was a silent prayer for his safe return.
Four years later, Kelly was now married to the most incredible woman named Jeri Lyn, and they had twin boys on the way (a full calf roping team). Having made the Double T quilt for him and since his last name starts with T, the pattern was a clear choice for the baby quilts for his boys. He was back home on a small ranch in Helena, Montana raising longhorn steers for rodeos in his spare time so I went searching for Western-themed fabric for the pair of quilts.

A few years after that, Jeri Lyn's dad passed away. She gave me a stack of his old jeans and asked me to make big boy bed quilts for the twins. After I confirmed that she didn't want the quilts to be completely made of denim (I feared the weight of them would suffocate those poor boys!), I went back to the cowboy theme for patchwork and applique sampler quilts that incorporated the pockets from the jeans into the center of each quilt. Before mailing the quilts, I made pillow shams of the leftover denim and tucked little cars and other gifts into each pocket.
Then much to everyone's surprise, a year after I made the big boy bed quilts, I needed to make another Double T baby quilt for a little sister.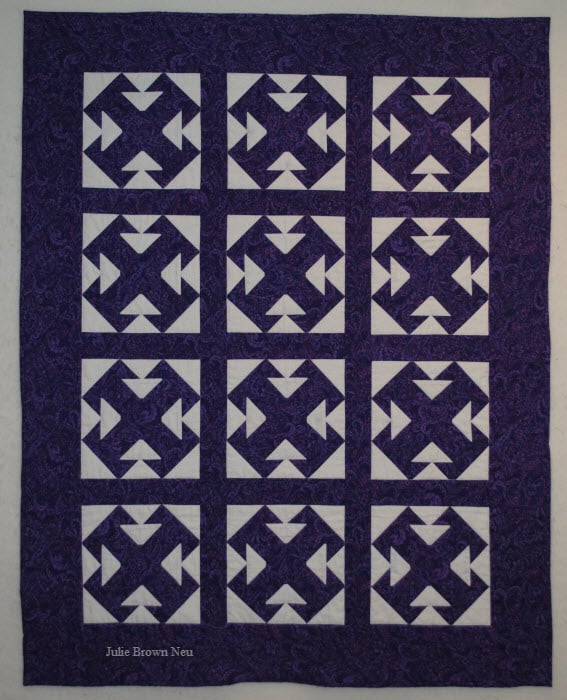 Her big girl bed quilt is way overdue, but I have an idea in mind for it that is a great departure from the red, white and blue, cowboy-themed quilts in this series so far. She's a whirligig of joy and I am envisioning a quilt to reflect that.