I've realized that one of the things that I lost when my blog blew up and I lost all of those years of content was the creation stories of most of my quilts. So, I have decided to recreate some of those, at least for the quilts that are available for sale in my Shop. This week, "Rainbow Sprinkles":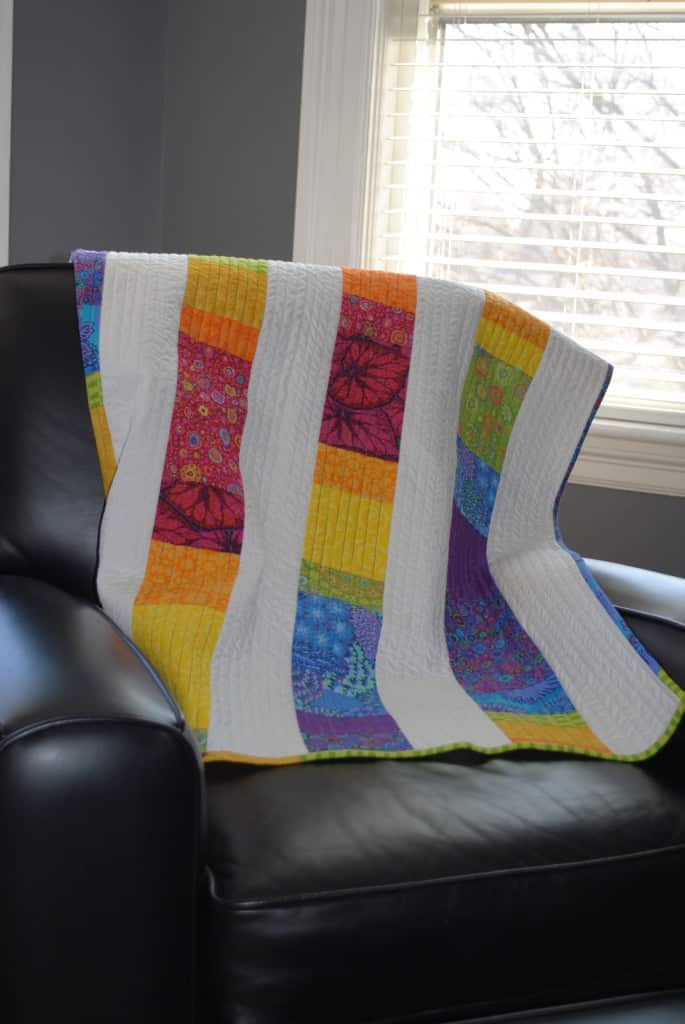 This quilt is based on a design that I created many years ago for a friend's baby quilt. The nursery was brown and green and I needed a pattern with a more modern look to fit with those colors and the modern design in the fabrics.  When I made "Rainbow Sprinkles" during my maternity leave in 2012, I think that I wanted something fun, bright, and organized to balance with what my life was like at the time.  I bought the brightest white fabric that I could find (It's a  Kona Cotton.) and I pawed through my stash for my brightest fabrics in a rainbow of colors. (There are a lot of Kaffe Fassetts in here.)  I spent many happy hours at the sewing machine with a rainbow stack next to me sewing patches together.  When it came time to quilt, I also went to my favorite section of the thread drawer and pulled out a rainbow variegated thread for the colored patches and a white for the background. It's simply, but heavily quilted with straight lines to emphasize the verticality of the colored strips.  For the binding, I went back to the rainbow stack and used strips of all of the fabrics in the quilt to create a rainbow around the edge.
This quilt brought me so much joy to make and it continues to be one of my favorite quilts. I think it would be a gorgeous baby quilt for someone not into saccharine sweet pastels.