I put a couple of quilts in the mail before the holidays that I wanted to share. Mind you, neither was a Christmas gift; they were just both overdue and finally finished.
The first one mailed off was  a baby quilt for the newest Montana member of our family.
When I heard that she was a redhead and I found this fabric, I had to get it for the backing: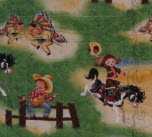 The second quilt recently mailed off was not one that I just finished.  During my last period of unemployment (aka all day quilting!), I started illustrating a  children's book that my sister wrote called "Ravaging Rio and the Ghost in the Library." I also created a quilt to go along with the story and had it packed away in my cabinet. Sadly, Rio, my sister's beloved chocolate Lab, passed away recently. I remembered the quilt I thought she should have it.